Warning: If you have accessed this web page without first having read and agreed to this website's Terms of Access which are located at the Main Gateway page, you must immediately stop reading this page, Click Here, read and then agree to all of the Terms of Access. Then you may return to this page and continue exploring this entire website.
Hello. You have reached the Albert DeSalvo Tribute Page of The Manifesto of Forbidden Truth. Thank you for taking the time to reflect upon the True Reality of Albert, a tortured victim-creation of 20th century amerikkkan society. If you find that the sentiments and revelations of Truth expressed at this page resonate positively within your core conscious experience of life, you might want to consider immersing yourself in The Manifesto of Forbidden Truth. This 200,000+ word Manifesto is devoted to exposing and dissecting all of the the forbidden truths of humanity, revealing it to be a diseased, devolving, and doomed species, unworthy of infesting planet earth. You may begin your journey here: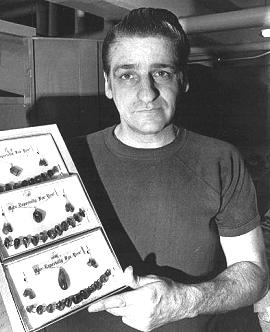 This is Albert DeSalvo, Tortured Victim-Creation of American Society. Albert's father wanted nothing to do with his sperm creations or his wife. Yet his insane society repeatedly threw him into prison for not giving them money. So he brutally tortured his four slaves and wife, physically and emotionally, including Albert. Like so many other millions of tortured children, if only his evil society had not embraced and imposed insane Sacred Family Unit mythology, allowing citizens to sever all contact with and "obligations" to their biological creations, Albert's father would likely have spared him this childhood of torture. Albert is believed to have serially killed approximately eleven women during an 18 month long rampage of cathartic vengeance between 1962 and 1964. It is astounding to contemplate how your insane, evil societies have relentlessly demonized victims like Albert throughout human history, condemning them as being "evil monsters", and their deeds of serial murder, mass killing, and other modestly harmful acts of cathartic vengeance as being "completely unacceptable and an assault upon human decency", when the reality is that throughout human history societies have been built and sustained upon genocidally evil mandates that result in systematic, brutal torment as well as lifelong soul, mind, and life-destroying consequences, for literally millions of people each and every year. You creatures applaud your society for genocidally destroying the lives of millions of children born in america in the year 2001, and yet in the same breath you have the audacity to condemn and demonize a victim like Albert for perhaps killing 11 human beings at most, and on top of this, he is a direct victim-creation of society. Only in response to the initiation and infliction of brutality by the society he was born into, did Albert seek and claim personally cathartic vengeance. The notion that Albert deserved some sort of punishment, or acted in a morally unacceptable manner, when judged against the reality of how american society victimized him as a child and continues to genocidally victimize children in the year 2001, is ludicrous.
"Here is the story of the strangler, yet untold, The man who claims he murdered thirteen women, young and old. The elusive Strangler, there he goes, Where his wanderlust sends him, no one knows. He struck within the light of day, leaving not one clue astray. Young and old, their lips are sealed, Their secret of death never revealed. Even though he is sick in mind, He's much too clever for the police to find. To reveal his secret will bring him fame, But burden his family with unwanted shame. Today he sits in a prison cell, Deep inside only a secret he can tell. People everywhere are still in doubt, Is the Strangler in prison or roaming about?" -------------Albert DeSalvo.
"Society right from the very beginning started to make me an animal...that's why I started all that killing."------------ Albert Desalvo.
As always, feel free to e-mail me with your comments, but do not expect any type of a reply, most especially not if your e-mail is critical, much less hostile. I recognize the Inferiority of the vast majority of you creatures, I recognize that at best, perhaps 1 human out of 100,000 can be expected to appreciate the profound Truth and brilliance that has been expressed at this web page by your Seer of Forbidden Truth, and I will not waste any of my time in exchanging e-mail with Inferiors. An important reminder: Please take careful note of the Copyright information that appears at the very bottom of this page, and at the bottom of every single one of my web pages. This notification/warning is very clear and if any of you creatures have any doubt, you can rest assured it will be completely and positively enforced.

Click Here to send me E-Mail: forbiddentruth@hushmail.com
Click Here to go back to the Top of this Page and continue your Journey into the brilliantly horrific depths of Forbidden Truth